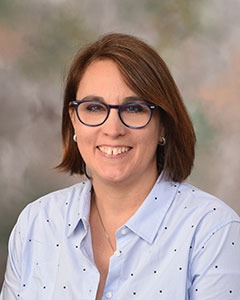 Leslie is a board-certified acute care nurse practitioner. She works with Dr. Arcand, Dr. Belanger, Dr. Czerwein and Dr. Moss. She specializes in spine and general orthopedic disorders.  Leslie spends her time seeing patients both in the office and assisting in the operating room. She has had 20 years of experience in surgery, with a strong focus in orthopedics.  
Leslie grew up in Jamestown/Newport and received her undergraduate degree at Salve Regina University. She completed her MSN at Maryville University in St. Louis MO. She is certified through the American Nurses Credentialing Center (ANCC). She is a member of the Nurse Practitioner Alliance of Rhode Island (NPARI) as well as the American Nurses Association/ Rhode Island State Nurses Association. 
Leslie lives in Newport with her husband and is a yoga instructor at Newport Power Yoga.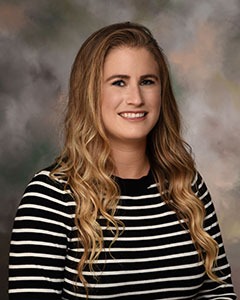 Kyra Gabow joined the UOI team in August 2020. She works with multiple providers, including but not limited to Dr. Derek Jenkins in the Adult Reconstruction division and Dr. John Czerwein in the Spine division. She also supports the OrthoDIRECT Urgent Care in East Providence & East Greenwich.
Kyra grew up in Colorado and graduated with a Bachelor of Arts and Science from Connecticut College. She received her Master of Science in Physician Assistant Studies from Bryant University. Kyra is a board-certified Physician Assistant through the National Commission on Certification of Physician Assistants (NCCPA.) She is a member of the American Association of Physician Assistants (AAPA) and the Rhode Island Academy of Physician Assistants (RIAPA.)
In her free time, Kyra enjoys skiing and sailing. She loves the mountains and enjoys spending time outdoors hiking and running.